"We are not worth more. They are not worth less." –S. Brian Willson
This interview was recorded at KWMR Point Reyes. PPR airs every other Friday on KWMR community radio at 1 pm. 
Listen to PPR for June 14, 2013 by clicking the link below or clicking on the grey arrow. (If you right click on the link you can download the talk to your computer and listen on-the-go.) The audio is slightly low for the guests due to the phone lines so just turn up the volume to hear them better.
 [audio:http://mettacenter.org/wp-content/uploads/2013/06/PPR-Guantanamo-Fasting.mp3] PPR- June 14- Guantanamo Fasting
Guests:
S. Brian Willson & Elliott Adams, two American veterans and activists fasting in solidarity with the prisoners in Guantanamo Bay (Gitmo).
For more information on the campaign to Close Guantanamo Bay, visit this link. 
Mid-show music: Neil Young, "Shock and Awe" 
(Chair and equipment used to force feed hunger-strikers at Guantanamo Bay Detention Center)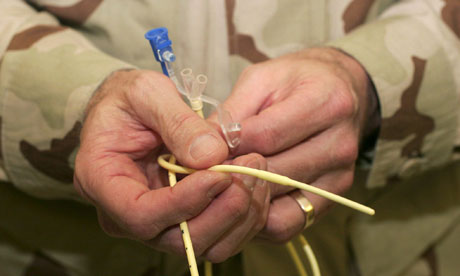 Short video interview with Elliot Adams

SEE THE SHARE BUTTON BELOW? WHY NOT SHARE THIS SHOW WITH EVERYONE YOU KNOW? 
Podcast: Play in new window | Download
Subscribe: Apple Podcasts | Android | RSS